Equine Welfare, please contact Erika on 07826 363857 or email: hswequinewelfare@gmail.com
Finance, please text Wendy on 07736 031221 or email: wendy@mechair.net (please note I can not always respond to calls but will get back to you quickly if you text)
All other calls and out of hours, please text Amy on 07799 005666
You can read Little Missy's story on our News Page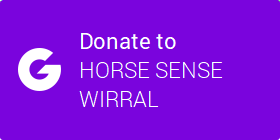 Horse Sense Wirral was founded in 2009 by Chair Amy Pirie aged 25, following the very public rescue of a neglected old pony named Herbie in 2007. Herbie was totally emaciated and crawling with lice and maggots, Amy rescued him assisted by other Equine and Welfare professionals. Following his rescue Amy began to receive more and more phone calls asking for help with other neglected, abandoned and unwanted ponies, so she drew on the support of like minded people and experts to form what is today Horse Sense Wirral.
Things rapidly changed from winter 2012 for Amy and husband Shaun. Horse Sense Wirral went from a permanent 6 residents on one site to 28 across 2 sites, Both sites were rented but we maintained all fencing/repairs ourselves and our Wallasey site had no water on the land, meaning daily trips with several 25 gallon drums of water to keep up with the horses needs. With Amy & Shaun both working full time to cover 95% of running costs and having the horses and both sites to look after, it became apparent help was needed.
Since receiving charity status in May 2013, the charity has rapidly grown with a dedicated team of volunteers, on the day to day running of looking after the horses and on the administrative side of things.
January 2016 we had the opportunity to move all horses to one location in Thornton Hough. The facilities on the farm mean the charity can run more smoothly, with great prospects to move forward and grow with the ever increasing demands. We have rescued 180 horses to date and successfully re-homed 105. We have also rescued over 300 small animals, with a great re-homing success rate. Our current running costs are £16,000 per month, which is raised solely on donations and fundraising events to give the animals the best we can. Nobody at HSW takes a wage or expenses, so every penny goes on the animals welfare. We are always grateful for any support. You can find different ways to donate and support us by clicking on the Donate page.
For more regular updates, please add Herbert Pirie (Horse Sense Wirral) on Facebook